Thursday, October 12, 2000 News of Mickey Gaidos
Mickey Gaidos is injured from a car accident that happened just around two weeks ago. He cracked his pelvis (hipbone) and broke his leg and minor injures. He will be out for at least 3 months. It's a terrible thing to happen to this south ninja and if anyone would like to show theyíre respect for all flatlanders that have been injured from anything before and including car accidents then you can sign the discussion board. Get well soon Mickey G.




Wednesday, September 27, 2000 2000 York PA. Jam
Dorkin in York was 4 flatlanders destination. They arrived to a jam packed HUGE parking lot, a flatlanders dream. (Think 5 super Wal-Mart parking lots put together!) All riders ready to stoke some sh*t in the blazing hot sun beams of Pennsylvania! Ride on, oops. Read on ...."

By Rachael Newsom
Tuesday, September 12, 2000 News on York jam
The South Ninja's are now back from the 2000 York jam! There will soon be coverage on the jam with a write up and many pics posted on southriders vary soon. So come back often for it to be updated.

| | |
| --- | --- |
| | |
| | |
| --- | --- |
| | |



Wednesday, August 23, 2000 KHE Press Releases
Hey Chris, I got some press releases from KHE bikes I thought you might find intresting. From: Mark @ webmaster@byke.org

KHE will soon be producing its new "No slip" freewheel hub. This freewheel based hub will act similar to a cassette hub with an internal freewheel mechanism inside the hub, and due to its design it will produce direct drive with...




Wednesday, August 09, 2000 Terry Adams B-day
Happy birthday to Terry Adams!!! It's 1:15 AM. So I decided what to get for he's 17th Birthday, a worldwide announcement. Happy Birthday dude!!!!!!!!!!!





Wednesday, August 09, 2000 Brett Downs
Brett Downs is holding a York, PA. 2000 JAM. Plenty of flatlanders will be there. Mark Eaton will be releasing the new dorkin video. Sept 9th donít miss it, support flatland.
For more info go to The Flatlander site. Or call Brett Downs at (215) 663-1264




Monday, August 08, 2000 Past interview
Zack Demboske interview by Chris Lilly. I managed to pull this interview up for yall through the phone (crazy huh?). If you ever got to watched Zack ride you would be vary impressed. Heís super fast riding skills along with long flip runs are vary rad. This interview is a bit...



Wednesday, August 02, 2000 Past contest
BBF Cleveland Ohio. Terry and me went to quite a few comps in 99'. But none compared to the Chenga comp (burning bike festival). There was really something great about that comp. I will just break it down for you like this...We got the bikes on the plane for free...No one bitched about a thing...All of the riders were not the...
Saturday, July 29, 2000 News
Eugene Collins is full force back on his bike. He spent sometime away because of school and work but he is definitely back. He is one of the most creative riders in flatland, no doubt. He plans to hit some comps next year and is riding in New Orleans for now. GLAD HE'S BACK!!!!!!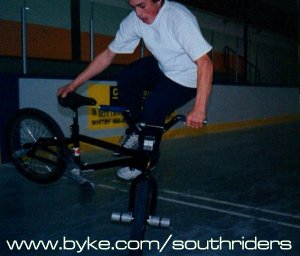 Saturday, July 29, 2000 Past interview
Jeff DesRoche interview by Chris Lilly. I never got the chance to meet or ride with Jeff but I do know somewhat about him from hearing from other riders that he is an incredible rider and rides brakless. I only e-mail him every now and then and chat with him on icq once and a while. Jeff is one of those riders you need to be watching out for...




Thursday, July 27, 2000 News
September 2nd AFL comp #3. Just outside Cleveland Ohio. You donít want to miss it; this will be a good one. There has been rumor that Infinity is putting on a jam the day after the comp. AFL comps are kicked back and a real good time. Flatland only, support AFL. Checkout the AFL web site for details.



Friday, July 14, 2000 News update
Terry Adams is now back and riding and even better! From what I heard he was supposed to be out for at least two or three months but he's now back, so watch out for him to be ruling Hammond Louisiana his home town again! Ride on.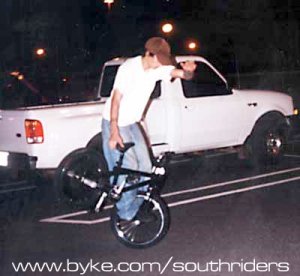 Thursday, May 25, 2000 Anthony Durbano interview
Anthony Durbano interview by Matt Hulgan. I got a chance to talk with rookie Pro, Anthony Durbano during his brief stint as a member of the Athens Family. Since then he has moved back to Philadelphia and Managed to take second place (behind Chase Gouin) at the Elsinore flat competition in Toronto this past March. I've also seen the guy swallow a Tooney...




Copyright ©2000 South Riders - www.byke.com/southriders